Excerpt via SouthSound Talk
As the last dry days of summer come to an end, the clouds roll in, and the world is on the hunt for pumpkin-spiced lattes, the South Sound will be showing off its artistic side. And the stage is nearly set for one of the signature events – the Tacoma Studio Tour – where local artists will be showcasing their creativity for all to experience.
Key Details
Event: Tacoma Arts Month and Tacoma Studio Tour
Dates: Tacoma Studio Tour – October 14 and 15, 11 a.m. to 5 p.m.
Location: Various artist studios in Tacoma, WA
Art Unveiled
The vision of Tacoma Arts Month is to create connections between the community and its artists, honoring the rich art traditions prevalent in Tacoma. From theatre and dance to glasswork, pottery, and various forms of visual and audio arts, Tacoma Arts Month strives to celebrate the diverse cultures and artists that make up this dynamic community.
The Tacoma Studio Tour
The Tacoma Studio Tour, a cornerstone of Tacoma Arts Month, had humble beginnings in 2002 with 13 artist studios opening their doors to the community. Today, this self-guided tour has expanded significantly, featuring 80 artists in 50 studios. It's an opportunity for the community to engage with artists, understand the art-making process, and appreciate the unique pieces available for purchase. Visitors can witness live demonstrations, engage in hands-on activities, and gain insights into the magic behind the art.
One unique aspect of this tour is the "passport" system. Visitors can collect stamps by visiting different studios. With at least seven stamps, they stand a chance to win hand-crafted artwork from the participating artists. It's a journey that brings the community closer to art, revealing the dedication and inspiration that drives artists to express themselves.
Featured Artists: Dionne Bonner and Rich Hall
Dionne Bonner: Bridging Communities Through Art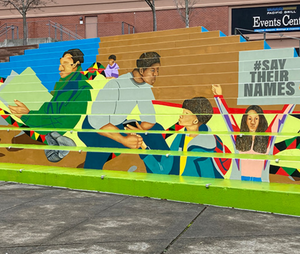 Dionne Bonner, a native of Hilltop, Tacoma, and a showcased artist on the Tacoma Studio Tour, believes in the power of art to connect communities. Her work, blending realism and expressionism, has left a mark in the heart of downtown Tacoma with the creation of the BLM mural on Tollefson Plaza. Joining the Tacoma Studio Tour allows her to reintegrate with the community, showcase her techniques, and provide a glimpse into the world of Black artists, creating a unique and inviting setting for art enthusiasts.
Rich Hall: The Labyrinth of Colors and Imagination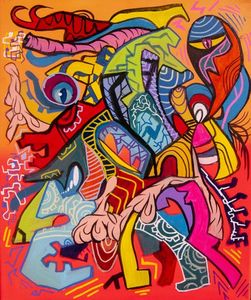 Rich Hall, an abstract urban artist originally from Queens, New York, invites viewers to dive into his vibrant and playful artwork. His pieces challenge perceptions of reality, urging viewers to ponder the intricate details and symbolism within each creation. Hall desires that viewers not only appreciate the colors and shapes but get lost in the intricacies of his art, prompting them to revisit and explore the labyrinth of his pieces.
The Tacoma Studio Tour will take place October 14 and 15, from 11 a.m. to 5 p.m. It's a free event, welcoming individuals of all ages. Don't miss out on this opportunity to witness the diverse arts culture of South Sound. Grab your passport, visit the studios, and let art inspire and enrich your soul. Join us in celebrating Tacoma's thriving arts scene during Tacoma Arts Month!